Delightfully crunchy deep-fried spicy potato and spinach fritters. Make a great snack for tea time, dinner parties and picnics.
In all honestly, I can't remember a time when we didn't serve pakoras at family get-togethers, birthdays and parties. This time of year we always keep some on hand, in fact, my daughter is munching on one right now while I was writing up this blog post. If you continue reading I'll go over how to make pakoras and even provide a few optional ideas and tips.
What is a pakora exactly
A pakora is a chickpea flour-based savoury fritter often containing potatoes, onions, spinach and other spices. Depending on the region or household ingredients can differ. This is then deep-fried until crispy and served with a chutney or added to a curry.

Dhal, addictedtocurry.ca
While we only really ate them at home during special occasions in India these were also just served with chai and chutneys like our apple chutney or Irish curry chip dipping sauce. In fact, this recipe isn't one of my own but my mother inlaws own recipe adjusted based on the spices we keep at home. So these may not exactly be like the ones they used to eat back home in India but they are just as good. Maybe even better.
What makes the best pakora?
There isn't really anything set in stone for this, pakoras can be made with any mixture of, chilli peppers, jalapenos, onions, potatoes, chives, spinach, carrots, peas, cauliflower, zucchini and eggplants. This is not an exhaustive list… while I was a student I tried all sorts of flavour combinations deep-fried fritters which eventually I will post in the future. Really it's anything you have on hand. Though there are some solid mixtures like one of my personal favourites that are onion-based Onion Bhaji (Crunchy Onion Fritters). Sometimes simple is best, especially if you're running low on ingredients. This recipe makes use of spinach, onions and potatoes. Try making these pakoras a little healthy even though they are deep-fried delicious.
Ingredients for this recipe
The ingredients for this recipe are actually relatively easy to find and if you don't have them I will list some alternatives if possible.
Chickpea flour: So this might be one of those ingredients you don't typically carry around the house. You can easily find this at any local Indian grocery store. Also called: Besan flour, Vasern, gram flour. Just take care not to but Kala channa flour pakoras don't turn out quite the same with that one.
Spinach: This is just your regular run of the mill spinach that can be found at any grocery market of a farmers market.
Green chilli peppers: so we typically use Thai green chilli peppers, but you can replace them with scotch bonnets (only add a bit), serrano or jalapeno peppers. If you can't handle the heat, you can always try banana peppers or shishito peppers.
Onions: We use red onions but you can use any white or yellow onions you have around the house. I'd stay away from sweet onions though might not turn out right but hey you never know.
Potatoes: The potatoes we used in this recipe are yellow. If anything I would not recommend any other baking potatoes or red they will turn to mush.
Coriander seeds: You can get a small pack of these usually in the spice section at your grocery store. if you can't find the whole you can replace it with powdered.
Garam Masala: You can either buy a premixed version or try grinding it yourself at home by following our garam masala recipe. If you make it at home you will at least know all the ingredients that have gone into the mixtures.
Kashmiri Mirch: This comes preground we usually stick to the MDH version that is just our preference. As much as I like grinding our own spices grinding red chillies is not my favourite thing to do. You can replace this with red pepper flakes, Deggi Mirch or a mixture of paprika and red chilli powder.
Dried mango powder: You should be able to find this at any Indian grocery store or in the ethnic aisle at your local grocery mart. I still have yet to find one brand that I like the best but you can get these from almost any MDH, PTI, DEEP, SHAN, etc.
Cumin seeds: This is a necessity pretty much goes into every Indian dish you can think of, and I mean it. Any brand will do but just make sure it says jeera and has a really strong smell when you open it.
Salt: just your regular run of the mill table salt nothing fancy here folks.
Oil: So we use CAnola oil for this recipe. but any vegetable or high heat oil for frying will work just as well. We buy ours from Costco mainly but I'm sure you won't need it as much as us.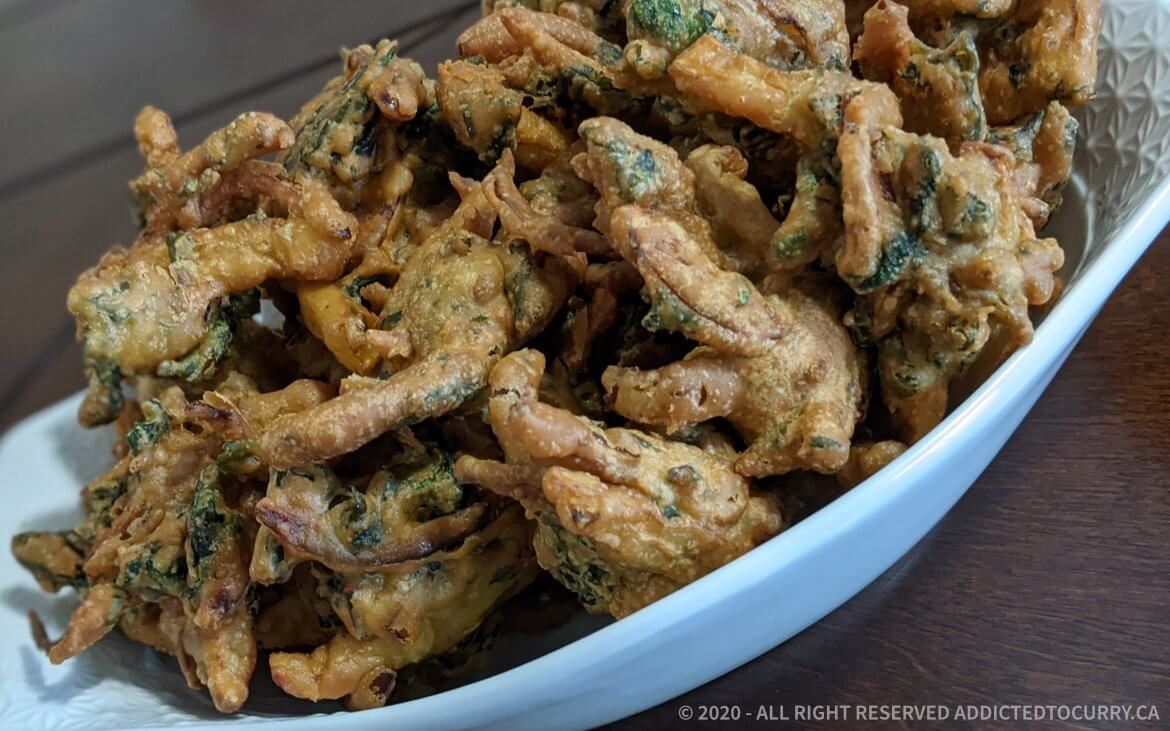 Ingredients
2 cups lightly packed chopped spinach
2 large peeled potatoes and cut into rough french fry shape
4 green chillies finely chopped
1 cup besan flour or other chickpea flour alternative
2 tsp crushed coriander seeds
2 tsp Garam Masala
1/2 tsp Kashmiri Mirch
1 tsp dried mango powder (Amchur)
1 teaspoon cumin seeds
2 teaspoons salt
1/2 cup water
Oil for frying
Instructions
In a deep pan heat oil on medium-low heat for frying.
On the side in a large bowl add in all the ingredients except the oil and water and mix well.
Then add in water, mix well until it turns into a thick pancake-like batter.
Check if the oil is hot enough for frying by dropping a little bit of the batter into the oil. Note: Be careful if the oil may splash up. You will know if the oil is ready for frying if the batter floats up and does start to brown slightly. If the oil is too hot your batter will burn, in this case, turn down the heat / off and try this test again after a minute or two.
Once the oil is ready for frying, use a spoon to place small amounts of the mixture into the oil. With either method making sure there is enough space between them so they don't stick.
Fry until they are golden brown and place the pakoras into a serving bowl.
Serve with a Chutney, Ketchup or any other tangy dipping sauce.
If you find the fritters to be a bit too oily you can dab them with a paper towel to remove any access oil.
Notes
When deep frying take proper precautions and safety measures. Oil is hot and you could seriously injury yourself if not careful, and cooks at your own risk.