A healthy and tasty meatless dish. This soya chunk curry is full of flavour and easy to make during weekdays.
This is a dish we make at least twice a month. Since a portion of our family is vegetarian, this is one of those dishes that we all can enjoy for a quick weekday dinner.
What are Soya chunks?
If you aren't familiar with Indian cuisine soy is used for a variety of different things from rotis to curries. But, what are soya chunks really? Soya chunks are made from pureed soaked soybeans that are left to dry so the oils and water are removed. This causes the chunks to become sponge-like in texture. We will try making them at home and post a recipe in the future. We typically buy Nutrela brans soya chunks.
There are many different ways to make a soya chunk curry. This Soya chunk curry is best served over top of rice. It can also be served with rotis as well.
How do you prepare Soya chunks for curry?
Soya chunks are completely dehydrated and first need to be soaked and drained before use. You can do this while you are prepping all of your other ingredients. This way when everything is prepped all you need to do is drain out that water. Also, give them a light squeeze as well when draining.
Ingredients:
Soya chunks: You can either use homemade or store-bought the brand that we typically use is Nutrela soya chunks. Be careful, don't accidentally buy the mini soya chunks we use regular sized ones typical come in a red box.
Cumin seeds: Any brand will do. Just make sure it says jeera and has a really strong smell when you open it. Remember if it doesn't have a strong cumin smell it might not be fresh.
Onions: Red, yellow onions will work for this recipe. You can change it based on your preferences based on what you have in your pantry.
Garlic: Fresh garlic works best but you can also replace it with garlic paste.
Red chilli pepper powder: You can either grind your own. Alternatively, grab a box of MDH, Kashmiri Mirch or Deggi mirch as a substitute.
Potatoes: You can use either yellow or red potatoes. You want one that is good for boiling.
Green chillies: We used Thai chillies in this recipe. You can replace them with any other chilli peppers you have and adjust them based on your tolerance.
Coriander leaves: You can use methi, coriander or parsley here all interchangeable 1:1.
Ginger: You want to get a fresh thumb of ginger for this.
Tomato paste: Don't confuse it with tomato sauce. This is a lot thicker than tomato sauce. The one that we use only has 2 ingredients tomatoes and salt.
Turmeric Powder: It's more convenient to buy it pre-packaged. Any brand will do just make sure Tumeric is the only ingredient.
Coriander powder: You can either grind coriander seeds or buy a preground package.
Garam Masala: Either buy a premixed version or try grinding it yourself at home by following our garam masala recipe. If you make it at home you will at least know all the ingredients that have gone into the mixtures.
Oil: You can replace this with either a vegetable or olive oil.
Water: Just simple tap water.
Salt: Regular run of the mill table salt. you can replace it with any other type you prefer as well.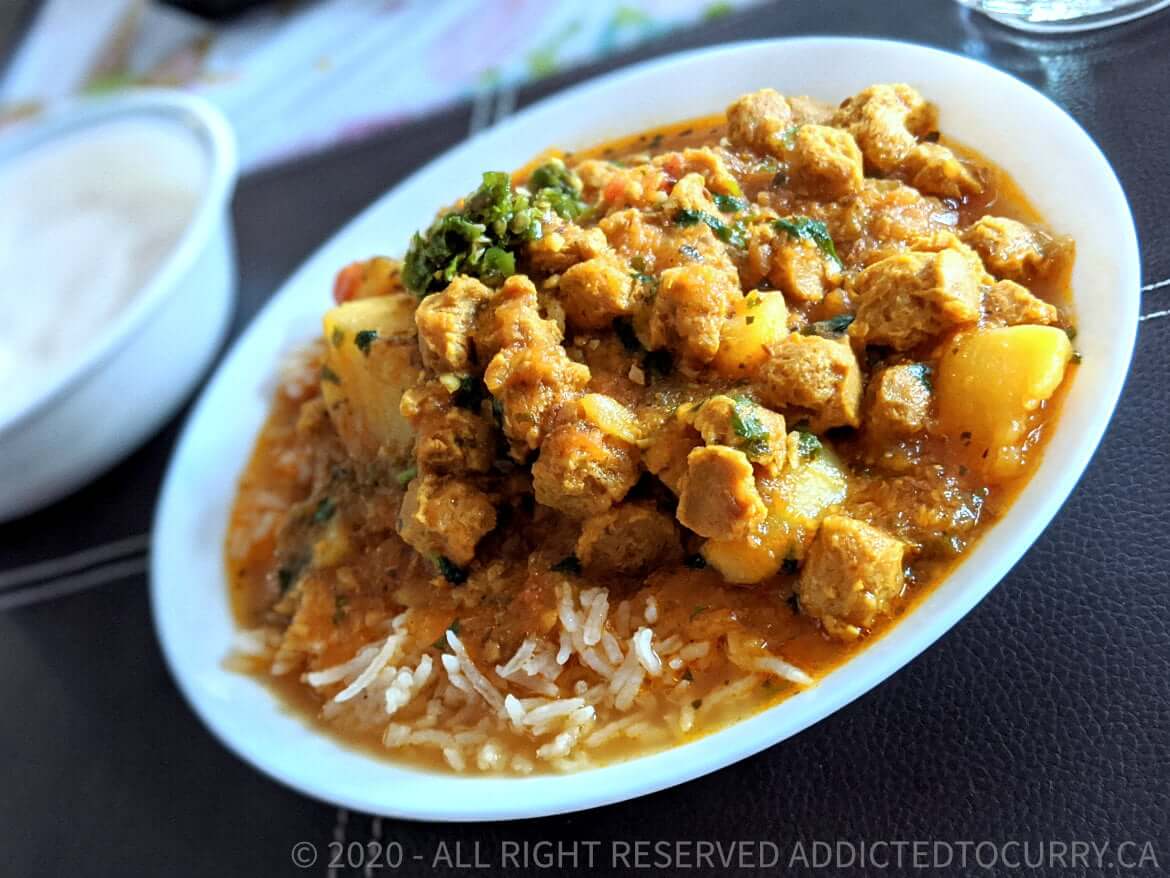 Ingredients
1 cup Soya chunks (soaked and drained)

1 tsp Cumin (Jeera)

1 Onion diced

4 Garlic cloves (Minced)  

1 ½ tsp Red chilli pepper powder

2 Potatoes (cut into 4-6 pieces)  

3-6 Green chillies (chopped) 

¼ cup Coriander leaves (chopped)

1 tsp coriander powder

1 tsp turmeric powder

1 tsp Ginger paste 

4 tbsp Tomato paste

2 tsp garam masala

3 cups water

2 tbsp canola oil
Instructions
Heat oil in a pan over medium heat. Add cumin seeds. When the seeds start to sizzle add in the garlic, followed by the onions and chilli peppers once the garlic has started to brown.
Fry the onions until they caramelize a bit. Then add in the tomato paste, garam masala,  ginger paste, red chilli powder, coriander powder and mix. 
Cook for half a minute and add the potatoes. Cook for a minute longer. Remove from heat if it starts to burn and add in a couple of spoons of water if needed. 
Add in the soya chunks and water. Bring this to a boil on medium-high heat.  
Lower the heat to low-medium and cover for 5-10 minutes. Check on the potatoes every 4-5 minutes once you can pierce a potato with a fork your curry is done. 
Garnish with coriander leaves and chillies (optional) and serve over rice.