A healthy weeknight dinner made from potatoes & cauliflower. A Weeknight aloo gobi recipe you can make in 30 minutes.
A popular dish from northern India that is made with Aloo (potatoes), Gobi (Cauliflower), Onions, tomatoes, garlic, ginger and spices. Often Aloo Gobi is made with Ghee clarified butter but if your looking to make a vegan-friendly version you can always swap it out for a preferred edible oil or margarine.
What makes a good Aloo Gobi?
You want the gobi (cauliflower) and aloo (potatoes) to have a slight crunch to it and not be mushy. To avoid this we only half cook both the cauliflower. This was we can add it in after cooking the onions and potatoes and it will still keep its crunchy texture.
What Ingredients do I need?
Potatoes: Also referred to as Aloo. You can use either yellow or red potatoes. You want one that is good for boiling.
Cauliflower: Also goes by Gobi. Just a medium-sized cauliflower that you can get at your local Grocer. Pick a cauliflower that hasn't yellowed or bruised and is firm to the touch.
Onion: We tend to use red onions in our recipes that are just our preference if you prefer yellow onions those work as well.
Tomatoes: For this recipe, we selected ripened Roma tomatoes. Hothouse, early girl or Campari tomatoes will be just as good.
Green chilies: We used Thai chilies in this recipe. You can replace them with any other chili peppers you have and adjust them based on your tolerance.
Garlic: Just regular garlic cloves that you can find in your grocery store.
Ginger: Half a thumb of ginger works here though if you use a strong organic version you may only need half the amount in the recipe. Organic/desi ginger can often overpower the rest of the spices.
Cumin seeds: Any brand will do. Just make sure it says jeera and has a really strong smell when you open it. Remember if it doesn't have a strong cumin smell it might not be fresh.
Garam Masala: You can either buy a premixed version or try grinding it yourself at home by following our garam masala recipe. If you make it at home you will at least know all the ingredients that have gone into the mixtures.
Turmeric Powder: It's more convenient to buy it pre-packaged. Any brand will do just make sure Tumeric is the only ingredient.
Dry mango powder: Also called amchur. This is optional. Gives the gobi a slightly tangy taste. We usually buy this preground, any Indian brand will do here.
Red chilli pepper powder: You can either grind your own. Alternatively, grab a box of MDH, Kashmiri Mirch or Deggi mirch as a substitute.
Salt: Regular run of the mill table salt. you can replace it with any other type you prefer as well.
Kasuri Methi: You can use methi, coriander or parsley here all interchangeable 1:1.
Canola Oil

: You can replace this with vegetable oil, olive oil or ghee.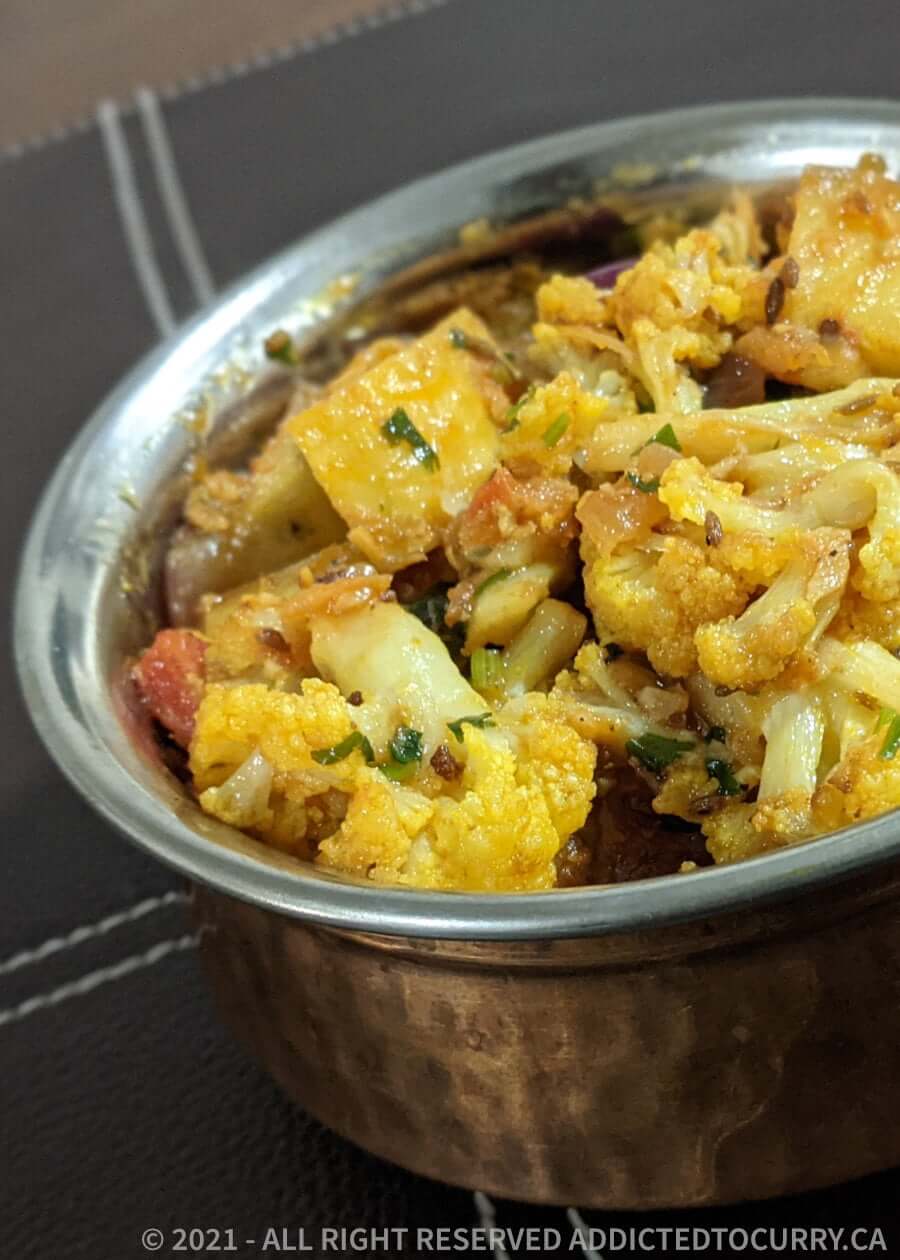 Ingredients
2 potatoes (cut into 6)
1 medium cauliflower (cut into florets)
1 red Onion ( 1 inch chopped) 
2 Roma tomatoes: ( 1 inch chopped)
4 green chillies (chopped)
3 garlic pieces (minced)
A thumb of ginger (minced)
1 tsp Cumin seeds
1 tsp Garam Masala
1 tsp Turmeric Powder
1/2 tsp Dry mango powder
1/2 tsp Red chilli pepper powder
Salt to taste
3 tbsp Canola Oil
Kasuri Methi
Instructions
Heat 2 tbsp of oil in a deep pan or pot on medium-high heat. Then add in the cauliflower and potatoes pan fry for 2-4 minutes. 
Once the potatoes and cauliflower have browned remove from heat and set aside. 
In another pot heat 1 tbsp of oil on medium-high heat. Add cumin and let it cook for 30 seconds or until they start to brown. 
Add garlic and when the edges brown adds onions and cook for 1-2 minutes or until they begin to caramelize. 
Then mix in the tomatoes, garam masala, turmeric powder, dry mango powder and Red chilli powder.  Cook for 2-3 minutes. 
Add the cauliflower, potatoes, salt, Kasuri methi and ginger. Mix well and cook for 5-6 minutes longer.