One of my favourite gluten-free and dairy-free Coriander Chutney. This Coriander chutney is the perfect partner for onion bhaji, pakoras, samosas, dosas, wraps and more.
This is actually my mother inlaws recipe (I did ask if I could post it). This recipe actually fooled me at first. It honestly looks like another dahi (plain yogurt, dairy-based) chutney. Boy was I wrong, one night I watched her make it I asked so we add the dahi in now? To her reply nope, It's dairy-free.
I'll keep the right up short and sweet for this dip so you can jump right in and learn how to make our chutney at home. This is actually a no-cook chutney which is nice because some chutneys require a lot of prep. The coriander chutney only takes about 10 minutes to make so not hard at all. You just need one boiled potato which might take some time but we always have a few in the fridge.
You will need a food processor or a blender for this recipe so make sure you have one of those on hand.
What do you eat with coriander chutney?
Think of this chutney as a healthy dip. it pairs well with anything that can be dunked like fries, chips, pakoras, onion baji. Also works well as a wrap and sandwich dip as well as not too well as a spread for sandwiches but we will post a spread version in the future.
How long does this chutney last?
With this recipe, your coriander chutney should last about a week if covered and stored in a fridge. After which its taste may start to change.
Ingredients and alternatives
Coriander leaves: No specific selection here just try to find one that is fresh and isn't canned or preserved.
Lemon juice: We juice our own lemons. If you don't have lemons limes work as well. Alternatively, you can also just buy a bottle o Lemonjuise from your local grocery store.
Red onion: Red or white Onions will work for this recipe. You can change it based on your preferences based on what you have in your pantry.
Potato: We use yellow potatoes but, you can use any other types that boil well.
Green chilli: We tend to use serrano or Thai chillies in our recipes. You can adjust these based on your tolerance.
Salt: Regular table salt. You can substitute Himalayan salt or sea salt as well just make sure it's food grade.
Jeera (cumin): Just regular cumin seeds. We recently switcher to hear brand. but any cumin seeds that have a strong cumin smell will work well. If it doesn't have a strong smell we don't use it.
Garam masala: It's not hard to make your garam masala at home. You can either try our garam masala recipe or you can try a premade mix at almost any grocery store.
Water: Just regular run of the mill tap water. If you really want you can use bottled water or spring water.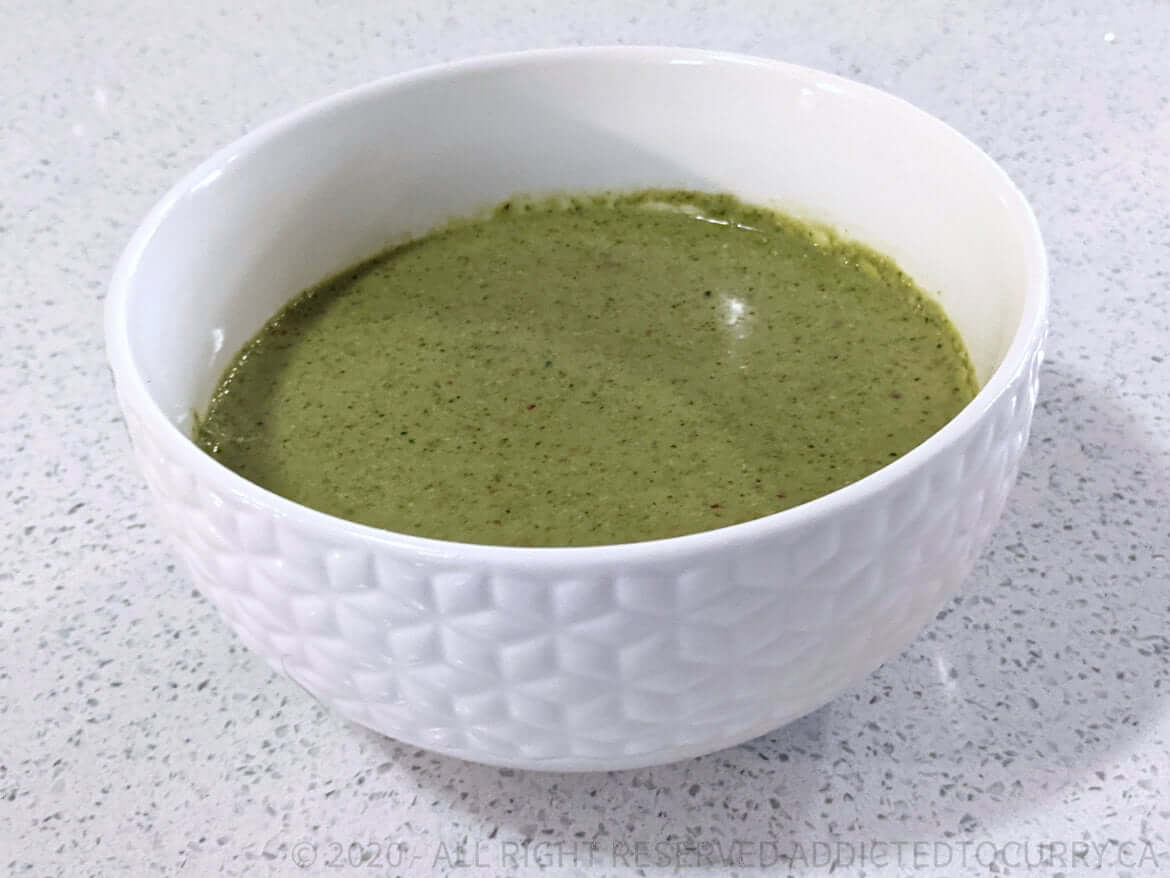 Ingredients
One bunch of Coriander leaves
2 tbsp lemon juice
1 onion cut into 4 pieces
1 boiled potato cut into 4 pieces
3 green chillies
1 tsp salt
1 tsp jeera (cumin seeds)
1 tsp garam masala
½ cup of water.
Instructions
Add in coriander leaves, lemon juice, onions, potato, green chillies, garam masala, chillies, salt into a blender and pulse until smooth. 
Add in half the water and blend. Keep doing this until you reach the consistency you prefer. 
Serve with Pakoras, samosas, dosas and more.