This Chicken Vindaloo will have you sniffing and tearing up all the while digging into the next bite.
Backstory
One of my top 5 favourite dishes. I only discovered it after seeing it on a rerun of Red Dwarf on Showcase. This is back when I still had cable. Honestly, I had never heard of it before at all both the show and the curry. Lister on the show loves spicy food. In fact, throughout the Series, he ate it multiple times onboard the Red Dwarf… I used to watch it on NetFlix prior to removing Red Dwarf from its listings. Which I did have a hard time with because it took me forever to finish the series.
I was a full season in and now had a full-on craving for some Chicken Vindaloo. Lister on the show loved spicy food as did I but growing up we never really made chicken vindaloo. My household never really made Chicken vindaloo growing up. Not a dish typically made in the Punjab region of India where my parents grew up.
Never have eaten or made Chicken Vindaloo before, off I ran to the local grocery store to find a jar of the premixed or premade spice mixes or even a frozen dinner. The taste of boxes and pre-packaged sauces really can't compare to making spice mixes yourself. Wanting to try it… unfortunately, the store didn't have it at all and I did not trust myself to make it right the first time. I found a small Indian shop where the individual told me while it wasn't on their menu they could make it for me. The name of the shop escapes me now I really do wish I remembered the name.
So in short. I watched Red Dwarf, saw Lister eat Chicken Vindaloo multiple times and actually only ate Chicken Vindaloo for the first time at the age of 22 at a small mom-and-pop shop in Surrey.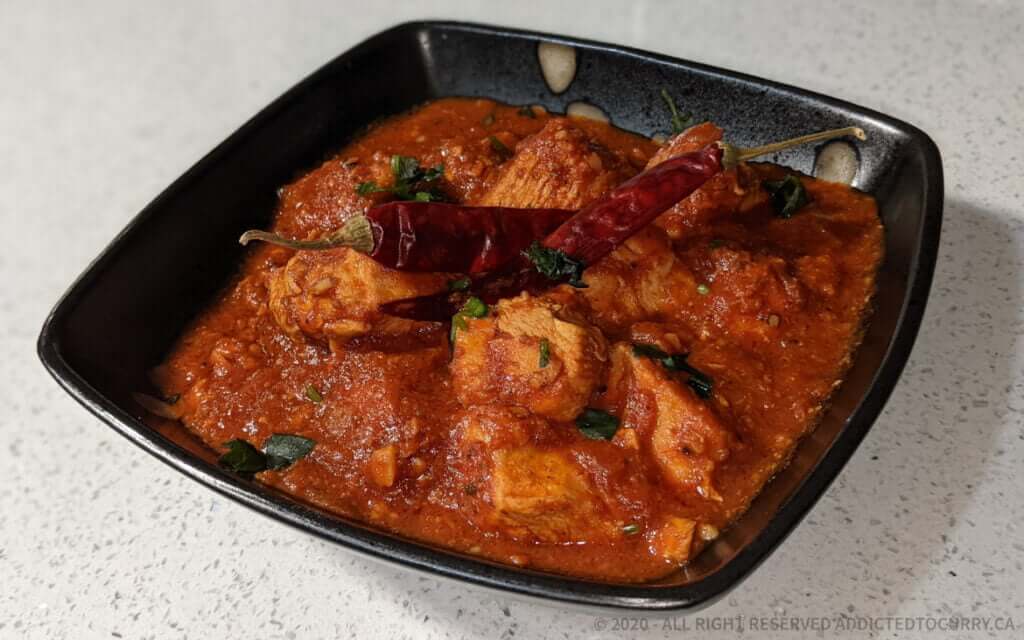 What is Chicken Vindaloo?
Years later I actually looked into this as I wondered why we had never eaten this growing up. It seems that the dish itself is not really purely Indian but a dish that was influenced by a Portuguese dish where meat is marinated with wine, garlic and other spices. There are more details on Wikipedia and on google about this if you are really interested. For me, though I'm not a purist and some of our recipes show that I try to experiment with each curry I make. This will always be only of my top favourite dishes.
Now the reason I wrote meat instead of chicken is that the original dish was actually pork and chicken Vindaloo was just one of the variations, one of the best variations in my experience. In all honesty, you can swap out the meat portion for anything really shrimp, tofu, beef, lamb, chicken, turkey. I can keep going but I won't here but will mention that on the Red Dwarf show Lister tried a caviar version. One that I have not tried myself just yet.
Also, in the Indian version wine was replaced with vinegar…
How to make Chicken Vindaloo?
Okay so now to get to making chicken vindaloo. Cut the chicken breast pieces into about 2-inch chunks you don't need to be precise.
We are going to need to start by making a chilli puree of chilli peppers, black pepper, coriander, cumin, cinnamon, garlic and vinegar in a blender. Pour this marinade over the chicken with this mix well and set aside while we prep the rest.
Next, you want to prep the Onions you want to dice them and cook the onions in a pan. Once the onions are caramelized, or even less if you are scared you will burn the onions instead of caramelizing add in the chicken and the marinade and the tomato paste.
You want to now cook the chicken though now. cause we are just about done. one the chicken has cooked through pour in the chicken broth or water. Either or works if we have chicken broth on hand we will use that else water is just as good. Boil this down until it's a thick sauce.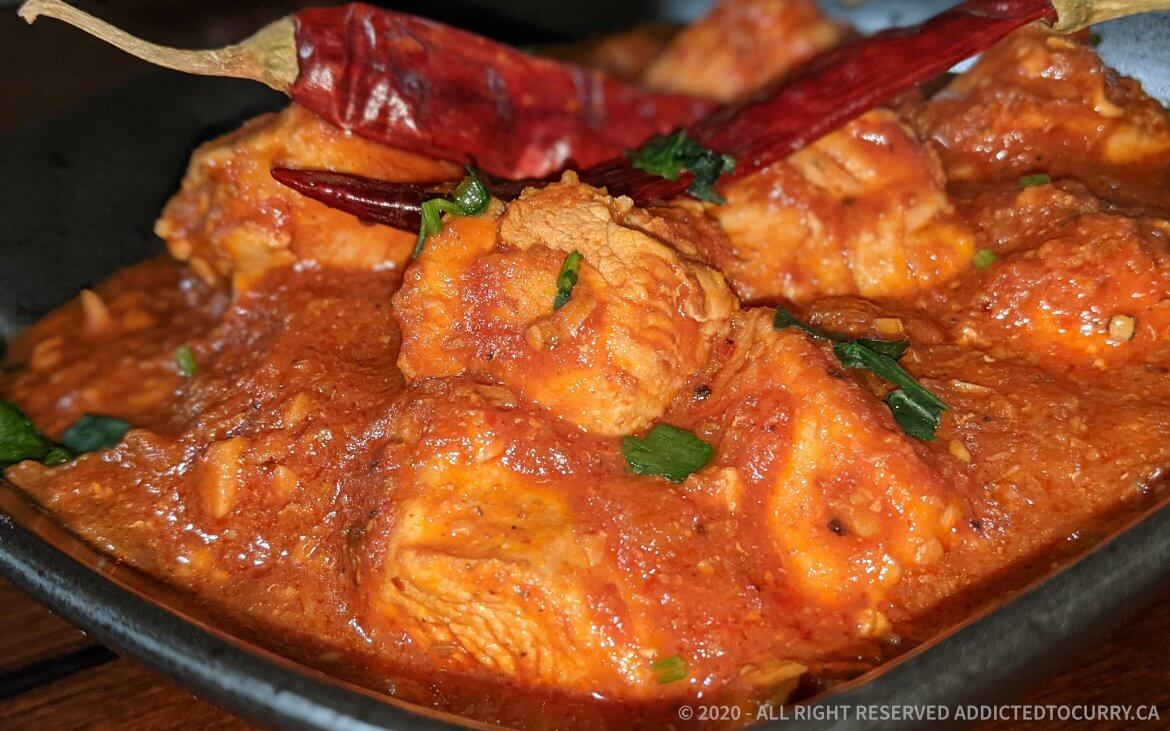 Ingredients
2

 

pounds

 

chicken Breast (chopped 4-6 pieces)

1 tbsp Ghee or butter or oil
1 large onion
8

Garlic cloves

5-8

dried red chilli peppers

2-3 green chilli peppers
1/2 tablespoon 

Black peppercorns

1 teaspoon 

Cumin seeds (Jeera)

1 tablespoon 

Coriander Seeds

3 

cloves

1-inch

Cinnamon Stick or bark

4 tablespoon 

Vinegar

1/2 teaspoon 

salt

 or to taste
1/2 cup tomato paste
1/2 cup of water or chicken broth
Instructions
Cut Chicken breast into 4-6 pieces and set aside in a mixing bowl. 
In a blender grind the red chilli peppers, cumin seeds, garlic cloves, black peppercorns, coriander seeds, cloves, cinnamon, 2 tbsp oil & vinegar. 
Coat the chicken pieces with this marinade and set aside. 
Heat a large pan on medium heat and add-in cut onions. Cook until the onions start to caramelize or turn opaque. 
Add in the chicken, green chilli peppers and salt and cook for about 5 minutes. Make sure to turn the chicken so they cook evenly and brown on both sides a bit.
Add in the tomato paste and cook for a minute longer. 
Add in the 1/2 cup of chicken broth or water and simmer for 10-14 minutes or until the chicken has cooked through. 
Serve with basmati rice, naan or roti and Dahi (plain yogurt).
Notes
You can always tone down the chilli peppers if it gets too hot.
*Legal disclaimer Addictedtocurry.ca is not affiliated with Red Dwarf. If you would like to get more information on the series you can here.