This easy to make crispy poori pairing well with masala potatoes, channa masala and spicy chicken type curries.
What is a Puri?

A Puri is a deep-fat fried crispy bread made from whole-wheat flour and sooji that originated from India. Also, spelt Poori in some cases.
We try to keep this recipe simple as possible though you will need to be careful as these need to be deep fried so be careful while making.
In India pooris are eaten for breakfast, however in our household, we typically only make it for lunch and dinner time. Though the best pairing for puris I have ever eaten is with our Easy Chana Masala recipe.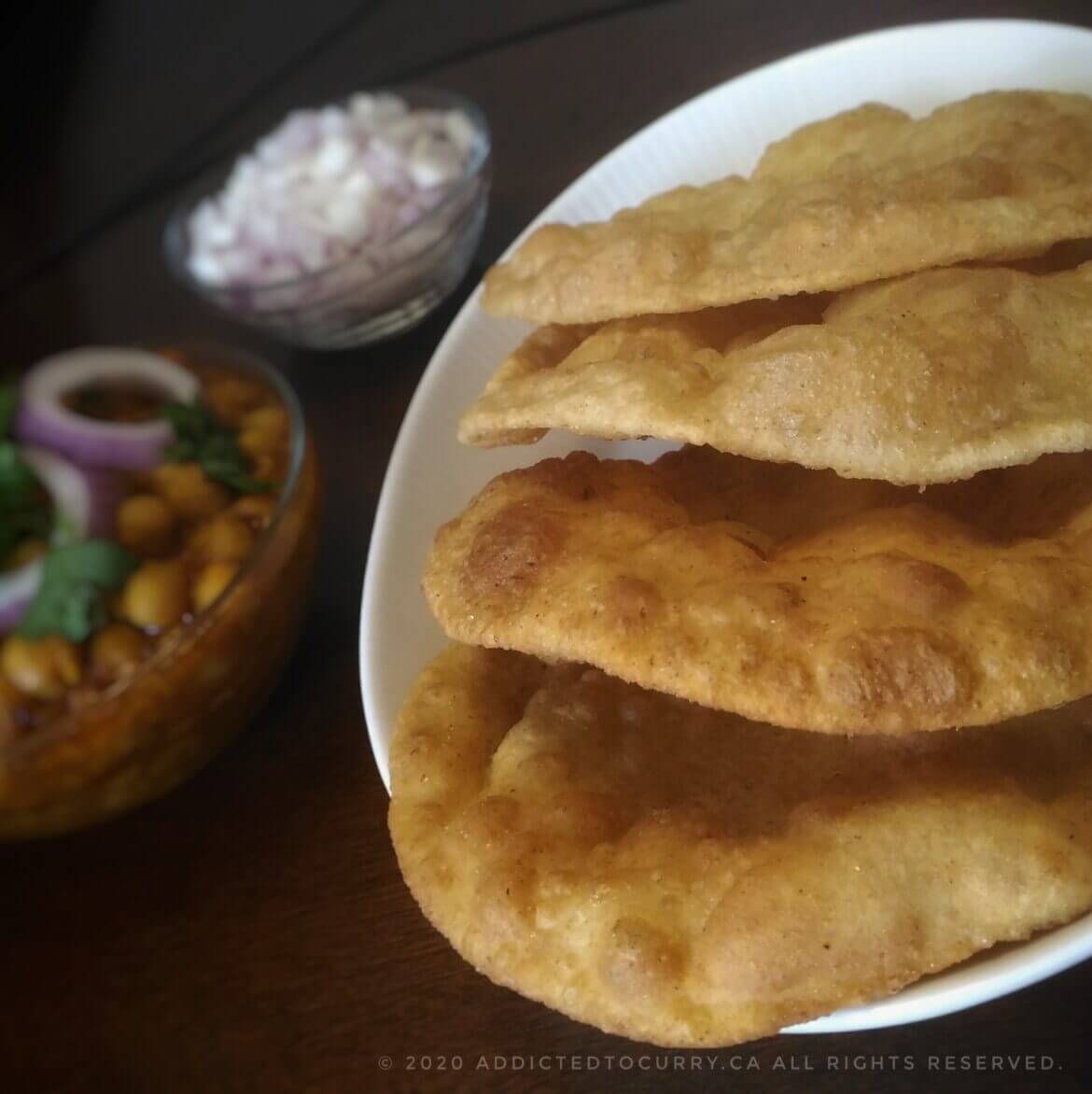 Ingredients
2 cups durum wheat flour or other wheat flour mix

½ cup water

4 ½ tsp sooji 

¼ tsp sugar

½ tsp salt

2 tbsp oil

Oil for frying. 
Instructions
In a large bowl mix all dry ingredients. 

Make a well in the center of the mixture and slowly mix in the water until the dough is slightly firm. Don't mix in too much water, else you will make the dough sticky, means you added too much water. To correct this add in a little bit more flour. 

On a clean area knead the 2 tbsp oil into the dough until the mixture is smooth in texture. 

Then place the dough into a container and place covered by a moist cloth in the fridge for 20-30 minutes. 

Take out the dough and break into ping pong side balls. Then roll to about 4-5 inches in size. 

Heat oil for frying on medium heat. Be careful when deep frying and remember to choose a correct size pan too shallow of a pan or pot can cause injuries. 

Fry each Poori one at a time pressing down lightly so the oil goes a bit over the other side of the Poori. 

Once the bottom side of the Poori is a golden brown colour, carefully flip the Poori to the other side and cook until the other side is golden brown as well.
Notes
Be care while deep frying if done improperly you can get seriously injured or burnt. Always use the correct tools and procedures while cooking.