Corn flour parathas are great for any meal and provide a gluten-free alternative to wheat-based parathas. Let's learn how to make them quickly and easily.
Roti is a staple in almost every Indian meal. Going gluten-free has many problems because roti is also wheat-based. Testing many flour alternatives with no luck. Nothing really came close to the texture or taste. Traditional Indian Maki da atta did not work as it left an aftertaste and made us crave Saag. Makki da atta is too brittle when trying to roll out a thinner paratha or roti using warm water. This is true unless you are willing to use very very hot water during mixing one thing we don't like to do ourselves.
Navigating the grocery aisles we discovered Maseca Instant Corn Flour and decided to try it out. You can make tortillas (what it's typically used for), Rotis, Parathas, and even pancakes.
These Parathas go exceptionally well with a variety of dishes like our: Chana Masala, Chicken Vindaloo, or Aloo Gobi. Even just with some Achar, Dahi, and ghee.
What Ingredients do I need to Corn Flour Parathas?
Masa Harina Corn Flour: Found at your typical grocery market. Alternate brands should work but have not tested them out yet. Still experimenting with different recipes using this brand.
Salt: Regular Run-of-the-mill Table salt that can be found at any grocery store.
Canola Oil: Any high heat oil works in place of Canola Oil.
Warm water: Warm tap water.
Oil for griddle or Tava: Extra high heat oil to coat the pan as they tend to stick.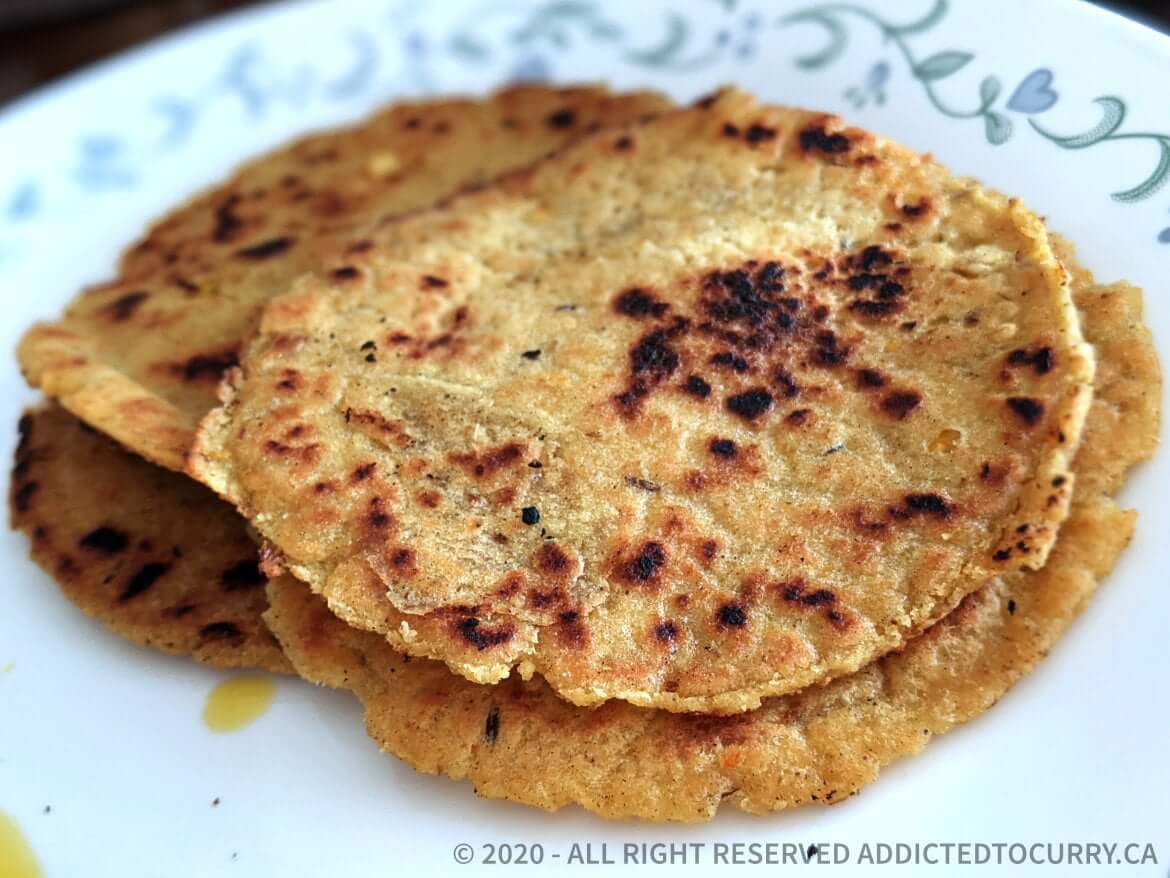 Ingredients
2 cups of Masa Harina
1/2 teaspoon salt
1 tbs Canola oil
1.5 cups of warm water
Oil for pan or Tava
Instructions
In a large bowl mix masa flour, salt, 1 tbs oil, and warm water.  Dampen a large cloth cover and set it aside for 5-6 minutes. 
Knead the dough for 5-6 minutes. Then make into small palm-sized balls (roughly 2.5 inches). 
Place the dough balls between 2 sheets of wax paper and press down using the bottom of a large pot.
Heat a Tava or griddle and brush with a little oil so the Paratha won't stick. 
Cook the Paratha on one side for 30 seconds and flip and repeat on the other side.
Place the Paratas in a roti warmer lined with a cloth else these parathas will dry out. 
Notes
You will need a Tava or griddle, Wax parchment paper, or aluminum paper ( coat one side with oil) and a wide 2 handled pot to help push down the paratha.