Healthy and delicious this gluten-free dry chilli chicken recipe is a great go-to weeknight dinner recipe. Made with no preservatives.
Going to keep this short and simple as well so you can quickly learn how to make dry chilli chicken at home instead of needing to order in.
This dish is Indo-Chinese. In a nutshell, it's deep-fried coated chicken coated in a spiced garlic soy sauce with a few vegetables mixed in.
This dry chilli chicken recipe is pretty healthy we don't use much oil in this recipe and don't add in the ghee. The chicken meat is white meat instead of dark/red meat. Salt in this dish comes from the soy sauce.
Now it can be spicy depends on if you wish to add chilli peppers or more chilli powder. This version makes a medium heat level that most can enjoy in our household.
Note
This is for a dry version of chilli chicken. We will post a version with copious amounts of sauce in the future keep an eye out for it.
Ingredients
Chicken breast: Boneless chicken breast is what we use in our recipe if you buy the bone-in chicken breast you will have to carefully debone it first.
Kashmiri mirch: Kashmiri Mirch is a mild spice level, this is normally available at any Indian grocers. If you can't find this you can substitute this for ½ tsp paprika & ½ tsp red chilli pepper powder.
Soy sauce: For soy sauce, we use dark full sodium. The brand I trust is Kikkoman tamari-style. They also make a low sodium version as well if you are trying to cut down on salt in your diet.
Egg: Any large egg will do here, free-range is nice but regular ones work just as good.
Cornstarch: We always have used Fleischmann's cornstarch but if you do not have this brand you can select any version you prefer.
Canola oil: you can substitute this for any high heat oil of your preference.
Garlic: Just regular garlic cloves that you can find in your grocery store. We typically have a large amount on hand because it's added to each of our dishes.
Ginger: Half a thumb of ginger works here though if you use a strong organic version you may only need half the amount in the recipe. Organic/desi ginger can often overpower the rest of the spices.
Red bell pepper: Regular medium-sized red bell pepper. If you do not have red yellow or orange work just as well.
Green bell pepper: Regular medium-sized green bell pepper nothing fancy.
Onion: We tend to use red onions in our recipes that are just our preference if you prefer yellow onions those work as well.
Spring onion: Regular spring onion you can find in season. If you can't find this or do not wish to add the dish still turns out great without it.
Sugar: We use cane sugar in our household instead of refined has a mellower taste. But you can swap this for half the amount of refined white sugar.
Garam Masala: You can either buy a premixed version or try grinding it yourself at home by following our garam masala recipe. If you make it at home you will at least know all the ingredients that have gone into the mixtures.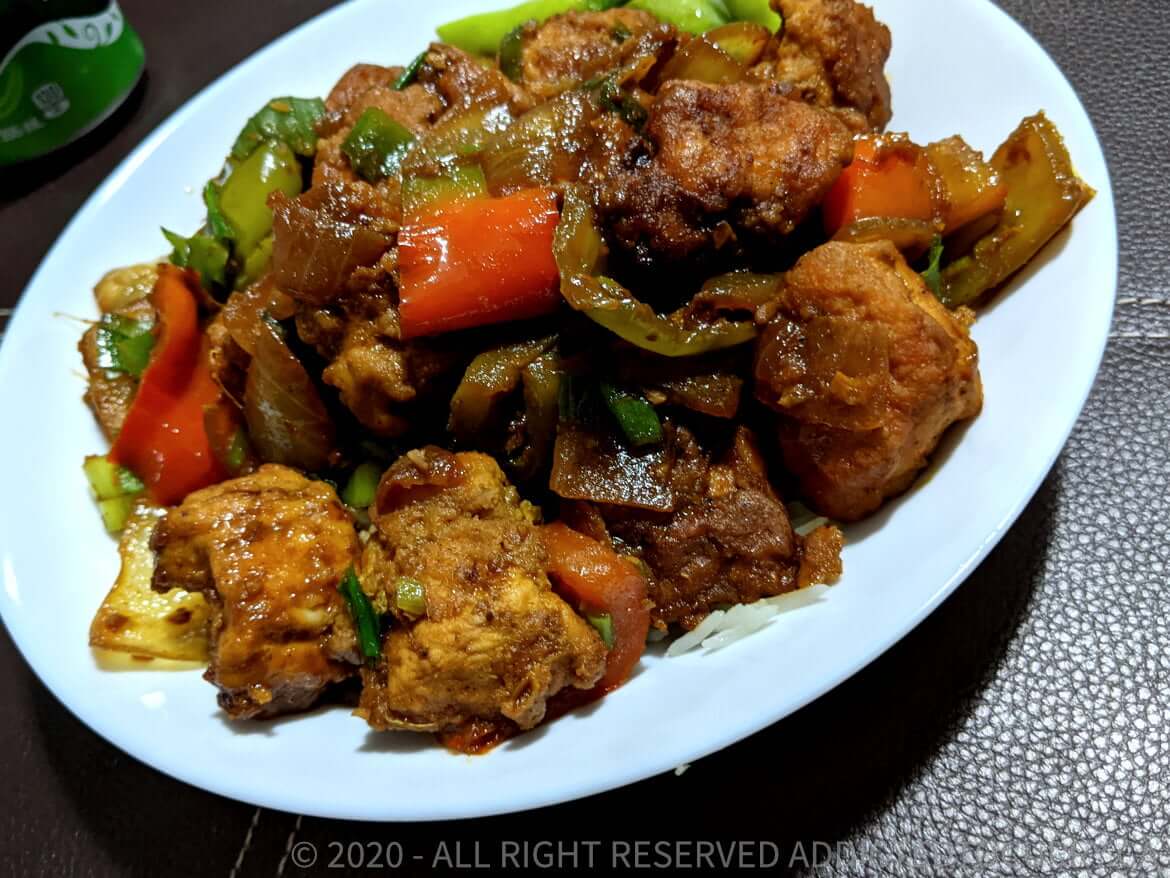 Ingredients
Chicken coating & pan frying
2 boneless chicken breast (1-inch cubes)

1/2 tsp Kashmiri mirch

1/2 tsp soy sauce

1 large egg

2 tbsp cornstarch

2-3 tbsp canola oil
Sauce & stir fry
1 tsp garlic minced

½ tsp ginger minced

1 red bell pepper (1 ½ cubed)

1 green bell pepper (1 ½ inch cubed)

1 large onion ( 1 ½ inch cubed)

1 spring onion ( 1 cm slices, optional)

1 ½ tbsp soy sauce

½ tsp sugar (optional)

1 ½  tsp Kashmiri mirch

1 tsp garam masala

1 tbsp canola oil
Instructions
Chicken coating & pan frying
Add chicken, Kashmiri Mirch, soy sauce, cornstarch and egg in a bowl. Mix well and make sure all pieces are coated. Set aside.
Heat oil in a frying pan on medium-high heat. Once oil runs like water add the chicken pieces and cook on all sides. Lower the heat if needed.
Once, the outside coating is nicely cooked set aside.  
Sauce & stir fry
In a large frying pan heat oil on medium-high heat. Once the oil has heated add in the garlic and onions. 
Cook onions until they start to caramelize then add chicken, Kashmiri mirch, garam masala and cook for 7-8 minutes. 
Next, stir in bell peppers, soy sauce, sugar and ginger.  Cook for 2-3 minutes, until the bell peppers, peel wilts.
Serve over rice with rotis or naan.