Our take on the classic deviled eggs recipe, made with ground mango powder, garam masala and powdered chilies.
One part boiled eggs one part stuffing this has to be one of the easiest appetizers that we at addicted to curry know how to make. From christmas dinners, parties, potlucks, picnics to family get togethers this is a finger food that is almost always present.
Though to tell you the truth we didn't know about these tasty appetizers were served at a potluck. The classic deviled eggs served were primarily a mixture of mayonnaise, salt pepper and mustard powder.
Once getting home we began putting our own twist on this classic recipe that suited our taste buds. In order to do so first came the research to make sure we understood what we were exactly making. So we did a quick wikipedia search for 'Deviled eggs'.
Deviled eggs?
In the 19th century, it came to be used most often with spicy or zesty food, including eggs prepared with mustard, pepper or other ingredients stuffed in the yolk cavity.

From Wikipedia, the free encyclopedia
Sounded simple enough. We began our work first sifting through our various spices. Without further ado, here is our easy deviled eggs you can make in under 40 minutes ⏱.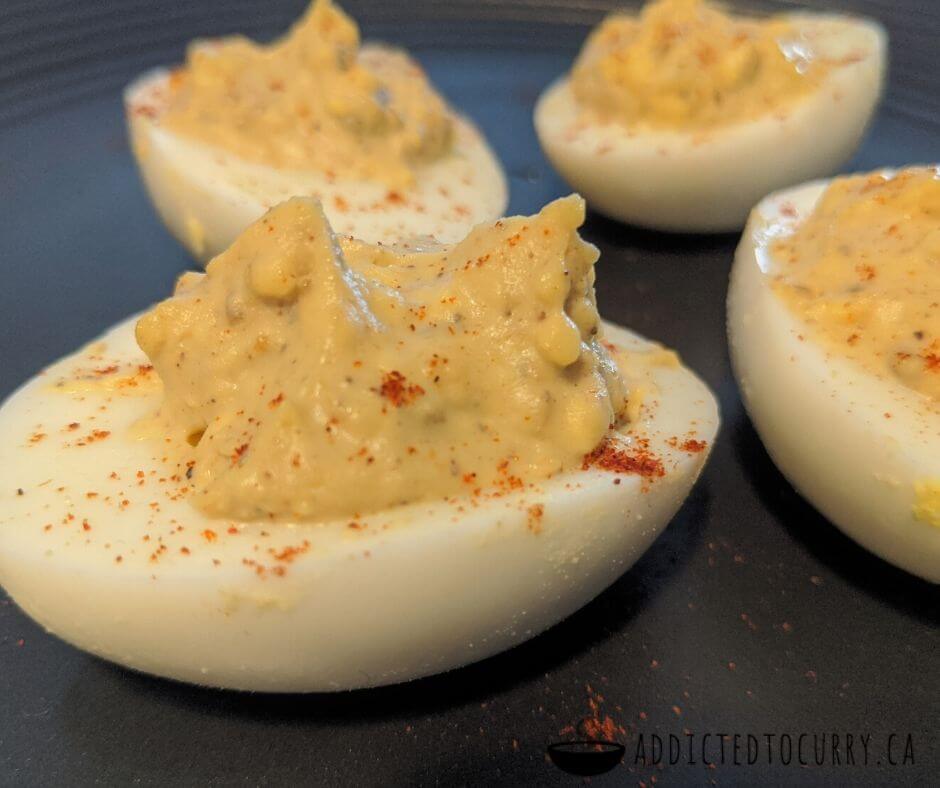 Ingredients
6 hard-boiled eggs
1/4 cup tablespoons vegan mayonnaise or regular mayonaise
1 small minced onion
2 teaspoon Amchoor (dried mango powder)
1 teaspoon garam masala
1/2 teaspoon salt
Pinch kashmiri mirch
Instructions
Place eggs in a pot then pour water until covered with at least 2 inches of water above the eggs. Heat pot on high until the water begins to boil then turn down to medium and boil for 10 to 12 minutes.

 

Remove eggs from pot and run under cold water and set aside to cool for 1-2 minutes. Crack and peel eggs then rinse under cold water. Once, all eggs have been peeled and rinsed pat dry or let stand for a couple minutes to dry off.

 

Slice the boiled eggs in half from top to bottom, move the yolks into a separate bowl. Place the hard boiled eggs aside on a plate as we prepare the filling.

 

Mash yolks, mayonnaise, minced onion, Amchoor, garam masala, salt together into a paste.

 

With a spoon scoop and place the mixture into the egg whites then sprinkle a pinch of Kashmiri mirch over the deviled eggs.