A quick and easy one pot channa masala weeknight dinner. Served with basmati rice, rotis, chapatis, naan or puris.
There is no one way to make channa masala, so you can't go wrong. Our recipe is based on a Punjabi chole. We will post other versions online for variety.
All about chana masala
Chana masala is a protein-rich dish from northern India with a gravy-like broth. Our version is quick and easy to make during the week. We also make other versions that take longer or use less roux.
Chana masala is also known as channay, chole masala, chole, chholay, or chickpea curry. In Punjab, it's often served with freshly fried puris. If you don't want to make basmati rice, try our Puri recipe instead.
How to make channa masala?
This version of chana masala because it's meant to be a quick weeknight dinner version. We went with canned chickpeas, tomato paste, garam masala, tamarind, onion, garlic, ginger and a blend of spices. Oh and parsley we typically use methi instead of parsley but use them interchangeably. This pairing was to speed up the cooking time. We all know how hard it is to prepare anything during the week especially an Indian dish. You'll need either a blender or magic bullet, one pot and roughly 30 minutes.
Ingredients and alternatives
Canola oil: You can replace this with either a vegetable or olive oil which can be picked up at any local grocery store.
Tomato paste: Not to be confused with tomato sauce. The one that we use literally only has 2 ingredients tomatoes and salt.
Ginger: You want to get a fresh thumb of ginger for this.
Canned chickpeas (garbanzo beans): No specific selection here just try to find one without too many preservatives or additives.
Onion: Red, yellow or white Onions will work for this recipe you can change it based on your preferences based on what you have in your pantry.
Garlic: You need fresh garlic for ease you can use frozen as well just make sure to be careful it does splatter from the ice build-up.
Parsley or Methi: Methi isn't always available so we use them interchangeably.
Garam Masala: I'd prefer here if you either use your own house blend or you can try our simple garam masala recipe, worse-case you can buy a pack of preground Garam masala.
Green chillies: We tend to use serrano or Thai chillies in our recipes but you can adjust these based on your tolerance.
Red chilli pepper powder: You can either grind your own or grab a box of MDH Kashmiri Mirch or Deggi mirch as a substitute.
Tamarind or tamarind chutney: We typically have a pack of shelled tamarind at home, you can pick this up at any Indian grocer. Alternatively, if you don't plan to use much you can pick up a bottle of Maggi brand tamarind sauce.
1 tsp cumin seeds
Turmeric Powder: Tumeric powder or Haldi usually comes in a root for looks like a miniature version of ginger just orange on the inside. while in India you grow your own, dry and grind these. It's more convenient to buy it pre-packaged any brand will do just make sure Tumeric is the only ingredient.
Water: Just simple tap water.
Salt: Regular run of the mill table salt. you can replace it with any other type you prefer as well.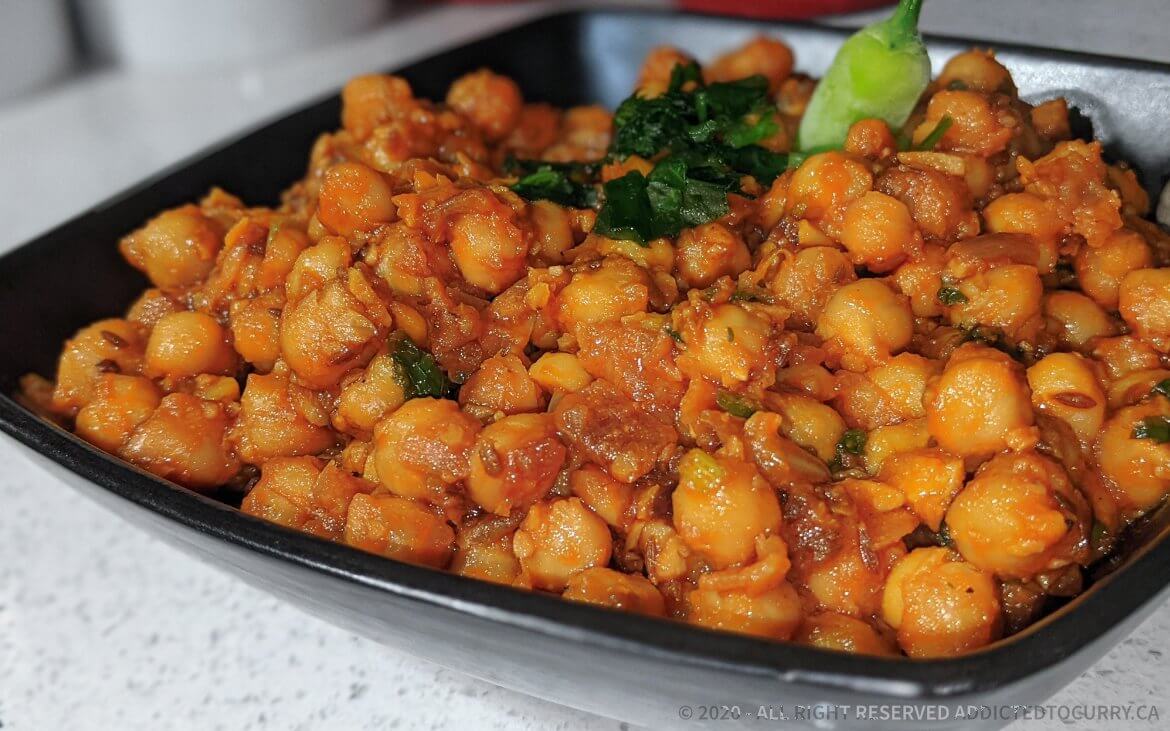 Ingredients
2 tbsp canola oil
¾ cup of tomato paste
A  thumb of ginger minced
2 cans of chickpeas (garbanzo beans)
1 onion diced
4 cloves of garlic minced
Bunch of parsley or methi
2 tsp garam masala
4 green chillies minced
1 tsp red chilli peppers powder
1 tbsp tamarind or tamarind chutney
1 tsp cumin seeds
1 tsp turmeric
2 1/ cups water
Salt
Instructions
Heat a deep pot over medium-high heat. Add oil and cumin seeds, garlic. Add onions once garlic turns from white to light brown. 

Once onions have turned a bit transparent mix in the tomato paste, turmeric, garam masala, chillies, remaining spices and chickpeas (garbanzo beans). Make sure it's all coated well. If your mix is looking a bit dry add in a tbsp of oil. Cook for 4-5 minutes.

Add in cilantro and water. Turn the heat up on high and bring to a boil. Then lower the heat to medium-low and cook for 10-15 minutes longer. Until it turns into a stew-like consistency.

Remove from heat and serve with white basmati rice, brown rice, chapatis, roti or Puri.